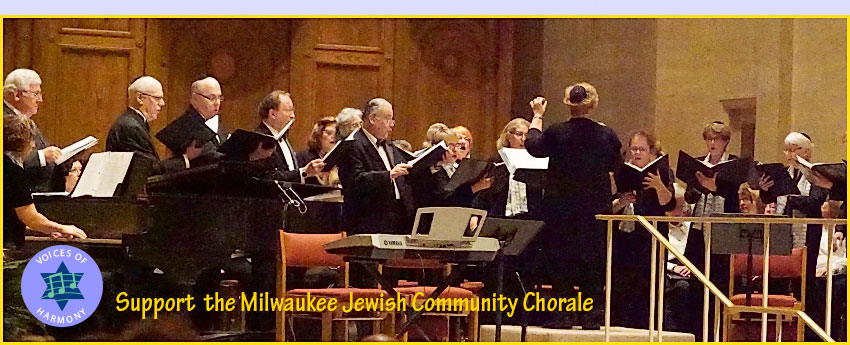 Support the Chorale
• To Make a Donation
The Milwaukee Jewish Community Chorale is a thriving, vibrant volunteer organization that enhances the quality of life for many people in our community. It also is a wonderful outlet for our volunteer performers.
However, the Milwaukee Jewish Community Chorale cannot do its work without friends and supporters. You can help the Chorale fulfill its mission of bringing Jewish music to audiences by making a tax-deductible financial donation.
To make a donation using your credit card or PayPal, please click the button below:
<! -- This code asks for an additional donation to cover costs. It should also ask for a donor's address and a text message --> <! -- This is the online button address https://www.paypal.com/donate?hosted_button_id=KG6BJLEHD68W4 -->
Make checks out to:
Milwaukee Jewish Community Chorale
Mail to: P.O. BOX 170211 Milwaukee, WI. 53217
• To Send a Tribute Card
Send an email to request your Tribute Cards!
EMAIL to: merzymke@gmail.com
Send a tribute card to mark an occasion...
In Honor, In Memory, Anniversaries, Birthdays, Get Well, and Bar and Bat Mitzvahs and more.